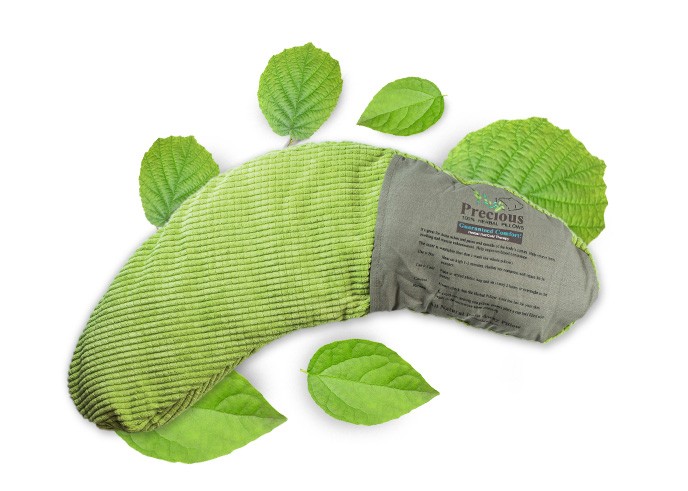 Not tested on animals and free from animal-derived ingredients

Precious Herbal Shoulder Pillow
Let warmth and natural wellness flow through you with a Precious Herbal Pillow, bringing healing and comfort any time it's needed. Each pillow is filled with the purest of natural grains, aromatic herbs, and essential oils, all nature's healers. It may be used as a hot or cold compress to effectively relieve tension and muscle pains and help you unwind.

Soothe the strain on your neck, shoulder, and upper back muscles with this 100% herbal pillow shaped to rest comfortably on your shoulders while you work or relax.

Dimensions: 7" x 20"
Available in Luxurious Mocha* and Green Apple fabrics
*while supplies last

The profits of Precious Herbal Pillows will directly help a sewing community from San Nicolas, Bulacan who will receive an income four times higher than the usual piece rate. Profits will also support Right Start Community Development Inc., a non-stock, non-profit NGO with the mission of giving underprivileged Filipino children a right start in life through music, dance & creative arts.

Precious Herbal Pillows is an all-natural pain relief business founded in 2009 by Allaine Chester & Juvilyn Sy, a husband-wife team in search of an all-natural, inexpensive alternative for pain relief and relaxation. They seek to pioneer safe therapeutic remedies for pain relief through their world-class, Filipino-made products.