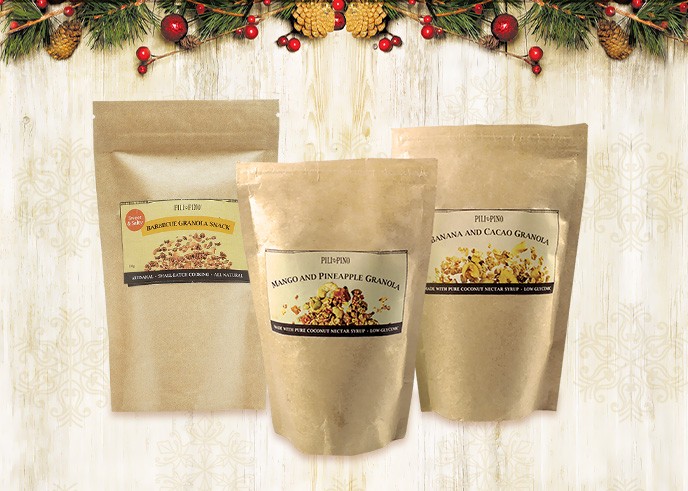 Not tested on animals and free from animal-derived ingredients

Heap sunshiny goodness into your breakfast bowl and snack pack with this delectable all-Filipino twist on granola, made with rolled oats, nuts, and dried fruits infused with the healthy sweetness of coconut syrup.

Mango & Pineapple (150g) − the perfect way to kickstart your morning or perk you up with a fiber-rich, tropical midday snack

Banana & Cacao (150g) − sweet banana and cacao nibs combine for an energy-laden crunch! Cacao nibs have incredible flavor and contain lots of minerals and antioxidants your body needs.

Barbecue (100g) − delight in the unique flavor and texture of these healthy savory-smoky nibbles perfect for every salty snack craving.

Did You Know? Made from pure nectar of coconut flowers, coconut syrup has fewer calories and a lower glycemic index than regular granola sweeteners which makes it ideal for diabetics' blood sugar management.

A play on the word "Pilipino", Pili (select) & Pino (fine) is inspired by all that is delicious and indigenous to the Philippines! Pili & Pino sources the anchor ingredient of their granola, coconut syrup, from their farming community partners in Mindanao. Pili & Pino uses mango, pineapple, banana, and cacao from communities in Visayas and Mindanao.