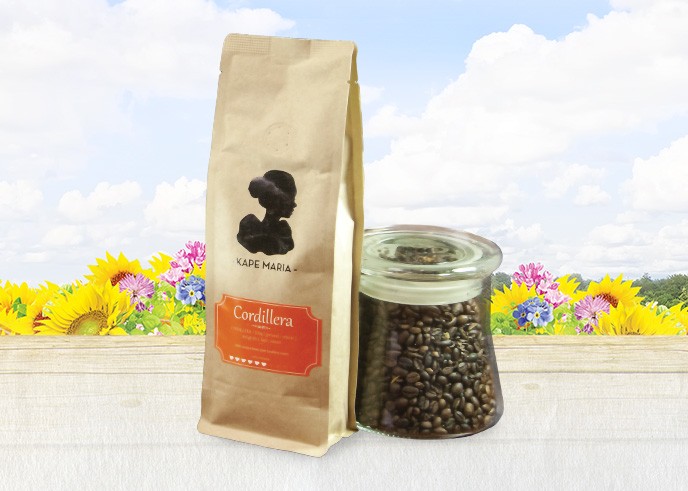 Not tested on animals and free from animal-derived ingredients

Kape Maria Coffee - Premium Blend
Did you know that coffee trees act as a flavor sponge, absorbing scents and flavors of plants within a distance? That is why coffee beans grown in different provinces have their own unique flavor. Kape Maria lets you taste the richness of Philippine coffee by sourcing beans from different provinces all over the country.

Savor the exquisite flavors tucked into the mountainous region of Benguet with our first-class Kape Maria Cordillera coffee. Made of premium hand-picked 100% pure Arabica coffee beans from the Cordillera region, each batch is hand-roasted to bring out their deepest flavor and aroma. Because Arabica coffee plants require more care and hand-cultivation than any other variety, and because of its sweet, subtle fragrance, Arabica coffee beans are expensive to produce yet highly prized by discerning coffee enthusiasts. The high altitude of Cordillera ranges, lush trees and surrounding crisp air caused this unrivaled brew to be dubbed the country's best coffee by coffee connoisseurs far and wide.

Treat yourself to Kape Maria's most premium coffee roast with the delightful, light, and sweet flavor of Cordillera coffee − now with a brand new hot seal and foil packaging so that you can always enjoy freshly roasted, flavorful coffee with every brew. (Strength: 6/10)

In 1880, the Philippines was the fourth largest exporter of coffee beans. When the coffee rust hit Brazil, Africa, and Java, it became the only source of coffee beans worldwide.* Yet today the Philippines import 24 million kilos of coffee a year! Be part of the movement to bring the country back on the coffee map and support the livelihood of the local coffee farmers.

* Philippine Coffee Board

Kape Maria is a social enterprise founded by Julia Sevilla that believes in cultivating the local coffee industry through fair trade practices. With every cup you drink, you're not only supporting the local coffee farmers and roasters so that they receive fair wages − you're uplifting the entire coffee industry! So drink up!