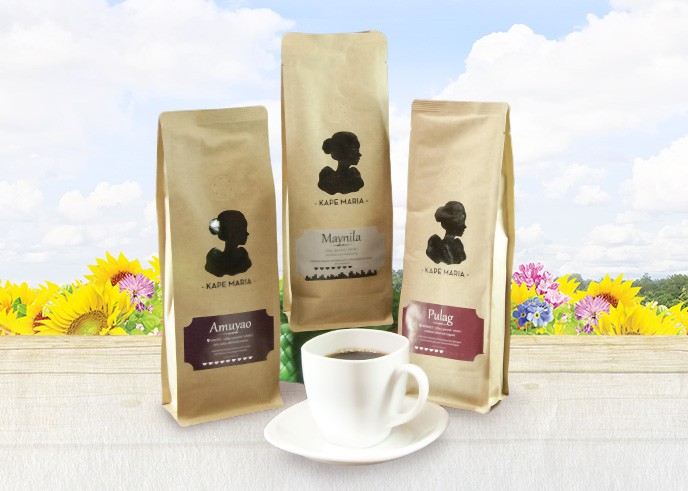 Not tested on animals and free from animal-derived ingredients

Kape Maria Coffee - Classic Blends
Kape Maria's three variants are made from a selection of premium coffee beans sourced from Cavite, Benguet, Ifugao Province and Mindanao, then hand-roasted to bring out their deepest flavors.

Amuyao is a strong blend of Excelsa coffee from Cavite and Robusta beans from Ifugao Province. Its rich, nutty, and distinctly macho flavor brews the perfect cup to start your day right. (Strength: 9/10)

Maynila is Kape Maria's house blend of premium Robusta and Arabica beans sourced from farms all over Luzon. This signature blend boasts a fearless and charming flavor to give you that ideal afternoon boost. (Strength: 7/10)

Pulag is a blend that features Arabica beans from Benguet, Robusta beans from Ifugao Province, and Excelsa beans from Cavite. Its medium, balanced, and fragrant blend makes it the ideal after-dinner coffee. (Strength: 6/10)

Coffee is best enjoyed when it's freshly roasted. To keep coffee's rich aroma and taste, it has to be stored in packaging that does not expose it to air. Kape Maria adapted the hot seal and foil packaging technology so that you can enjoy fresh, vividly flavorful coffee every time you brew a cup.

Kape Maria is a social enterprise founded by Julia Sevilla that believes in cultivating the local coffee industry through fair trade practices. With every cup you drink, you're not only supporting the local coffee farmers and roasters so that they receive fair wages − you're uplifting the entire coffee industry! So drink up!